Getting to the University Campus in Heraklion
The Voutes Campus is about 10km from Heraklion town centre, in the area of Vassiliki Vouton. All the Departments of the School of Sciences (Biology, Chemistry, Physics, Materials Science, Applied Mathematics, Computer Sciences, and Mathematics) are now housed in new buildings on the Voutes Campus, as well as the School of Medicine and the adjoining University General Hospital. 
There is a regular bus service every 15 minutes between the campus and the town centre (Eleftheria Square), journey time about 35-40 minutes.  Tickets can be purchased at the kiosks next to the bus stops. Alternatively, journey time by taxi is about 20 minutes .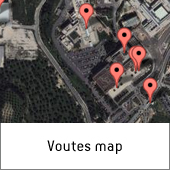 Last update 13/09/2019